GeForce RTX 3060 Game Ready Driver Released
Our latest GeForce Game Ready driver brings you support for the newly released GeForce RTX 3060 desktop graphics card, along with support for the Outriders demo, NVIDIA DLSS in Nioh 2 – The Complete Edition and Mount & Blade II: Bannerlord, and NVIDIA Reflex in Rainbow Six Siege.
To download and install, simply fire up GeForce Experience and click the "Drivers" tab.
Game Ready For The GeForce RTX 3060
GeForce RTX 3060, the newest member of the GeForce RTX 30 Series family, is out now. Featuring 10x the ray tracing performance of the GeForce GTX 1060, and double the rasterized performance, the new GeForce RTX 3060 offers previous-gen gamers a massive upgrade that'll get them playing the latest and greatest games with fast frame rates, high fidelity graphics, and game-changing features like ray tracing, NVIDIA DLSS, NVIDIA Reflex, and Resizable BAR.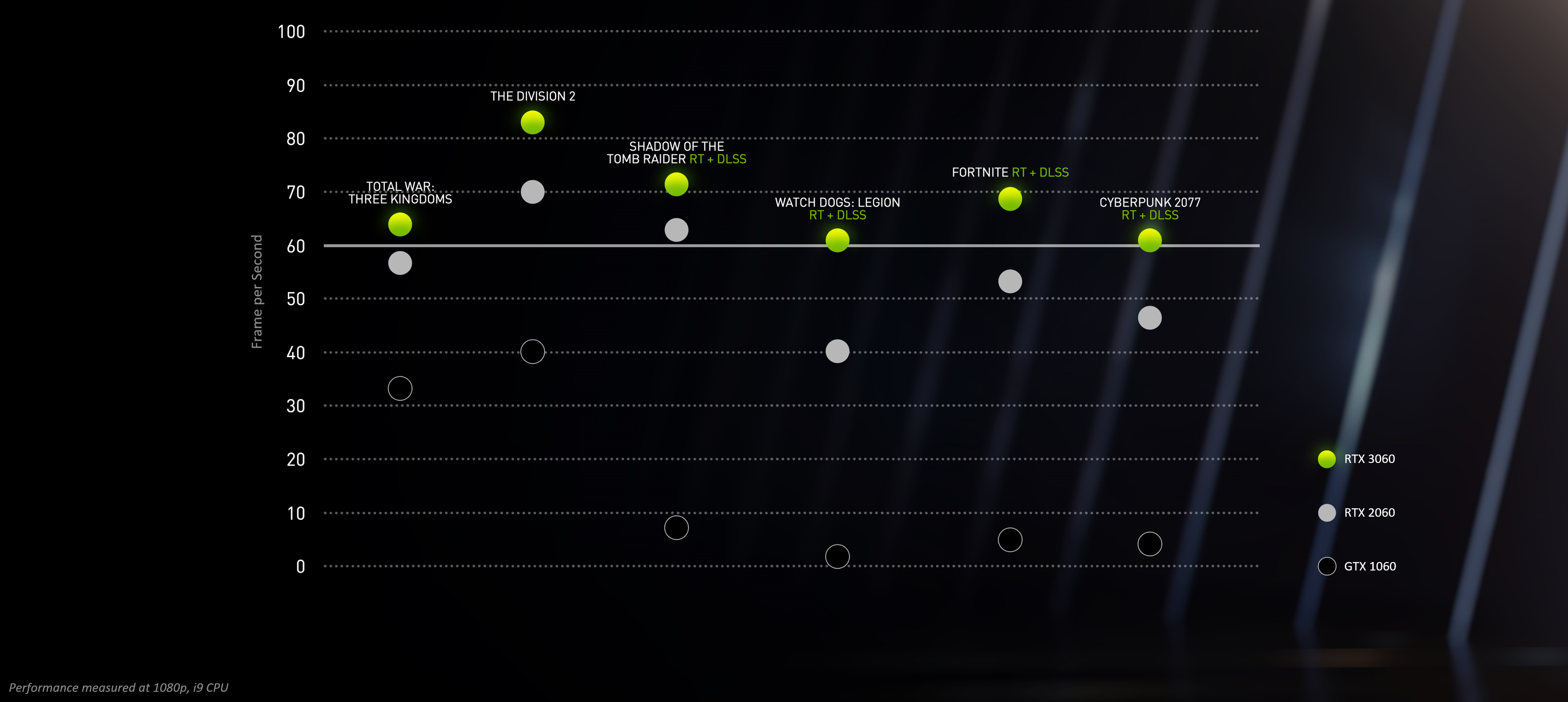 If you add the GeForce RTX 3060 to your system, download and install our new Game Ready Driver to enable full support for our technologies and experience-enhancing features.
Game Ready For The Outriders Demo
Outriders, from Square Enix and People Can Fly, is a hotly tipped single-player and co-op sci-fi RPG shooter. Ahead of the game's official April 1st release, you can download and play a meaty demo that is available today from the official Outriders website.https://www.youtube.com/embed/ddsrauBnEGM?enablejsapi=1&autoplay=0
To ensure you have the best possible experience in the high octane, hectic action shooter, download and install our newest Game Ready Driver.
Game Ready For NVIDIA DLSS In New Titles
Only GeForce RTX GPUs feature Tensor Cores, dedicated AI processors that power revolutionary technologies such as NVIDIA DLSS, which greatly accelerates frame rates. With faster performance you can enjoy smoother gameplay, or reinvest those frames in higher detail levels, higher rendering resolutions, and higher ray tracing settings, giving you the most immersive experience possible.
Each month new games add support for NVIDIA DLSS, and February is no different, with NVIDIA DLSS being introduced to Nioh 2 – The Complete Edition and Mount & Blade II: Bannerlord. With DLSS, instantly improve your experience by boosting frame rates by up to 58% with a single click: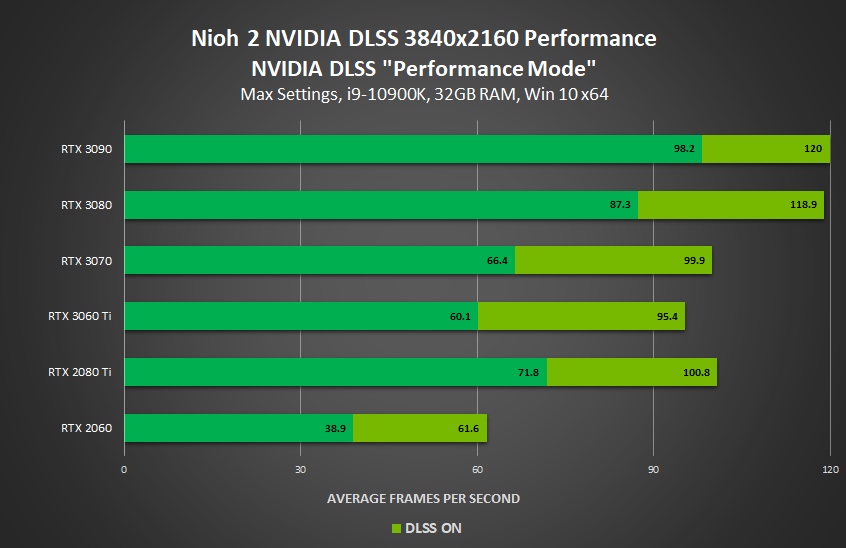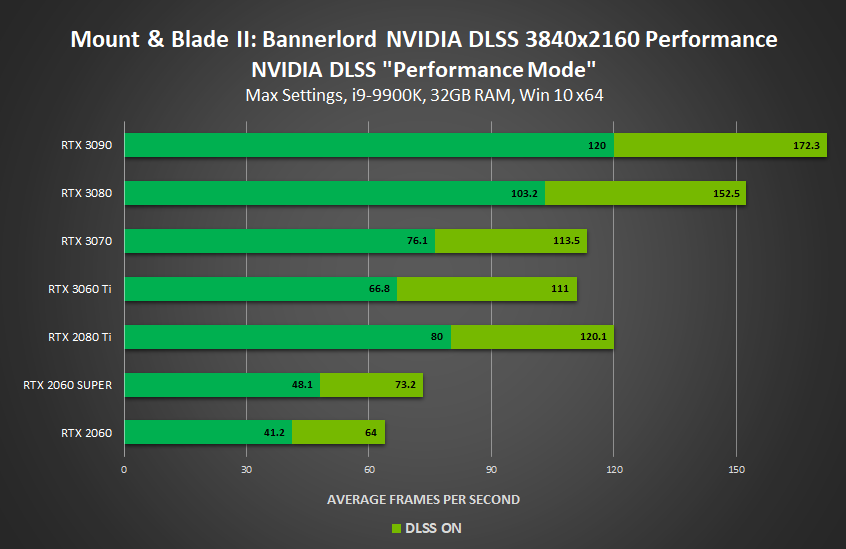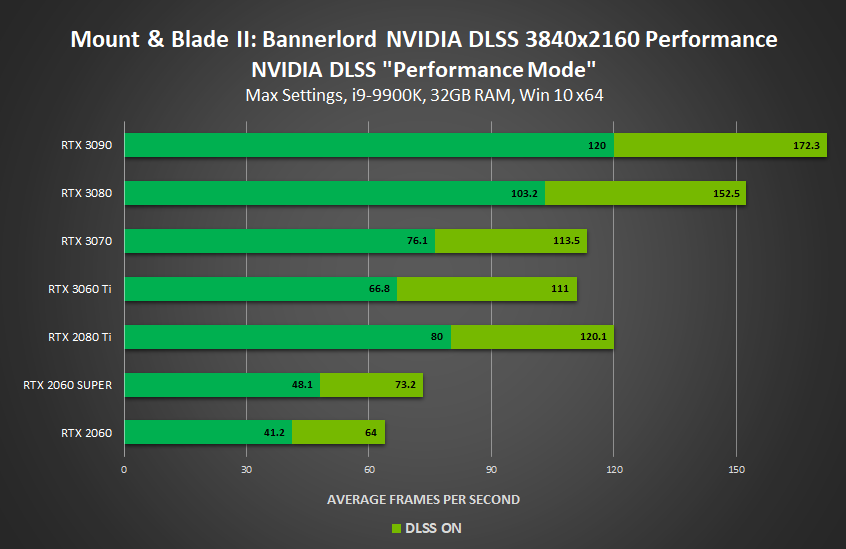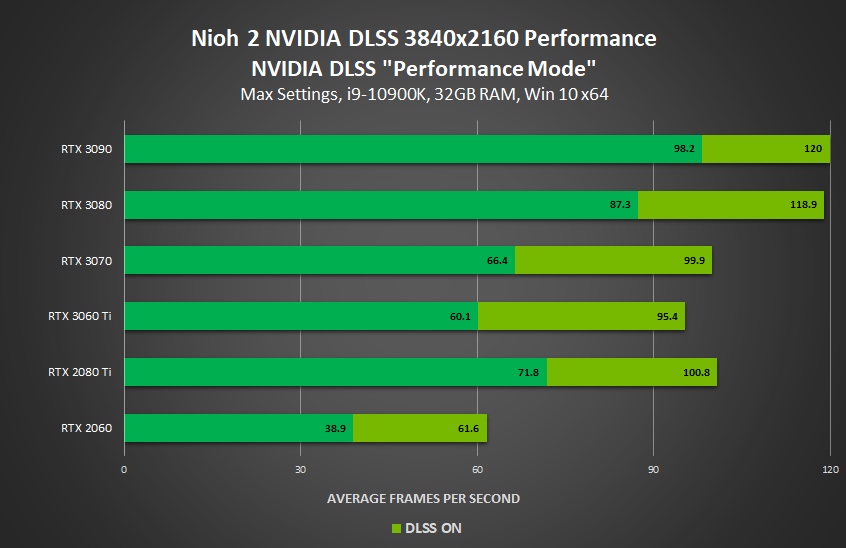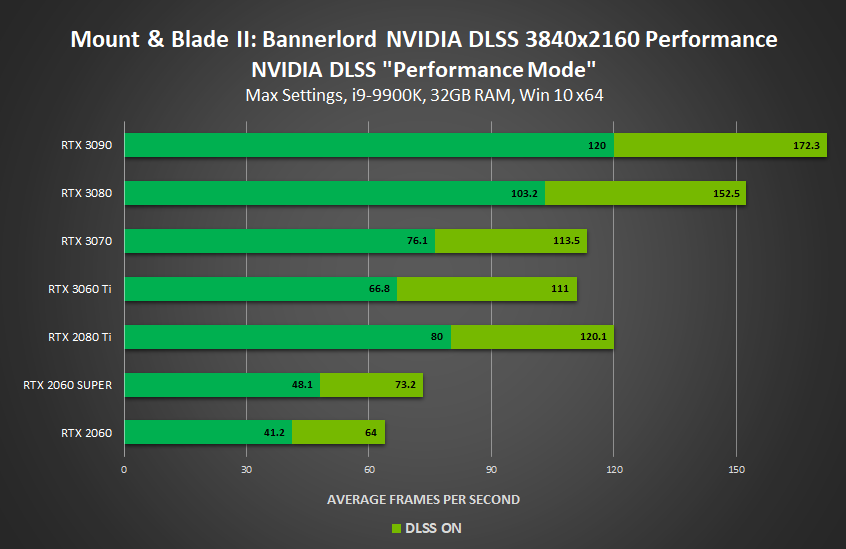 To learn more, and to read about the addition of NVIDIA DLSS to Unreal Engine 4 and creative applications, check out our dedicated DLSS article.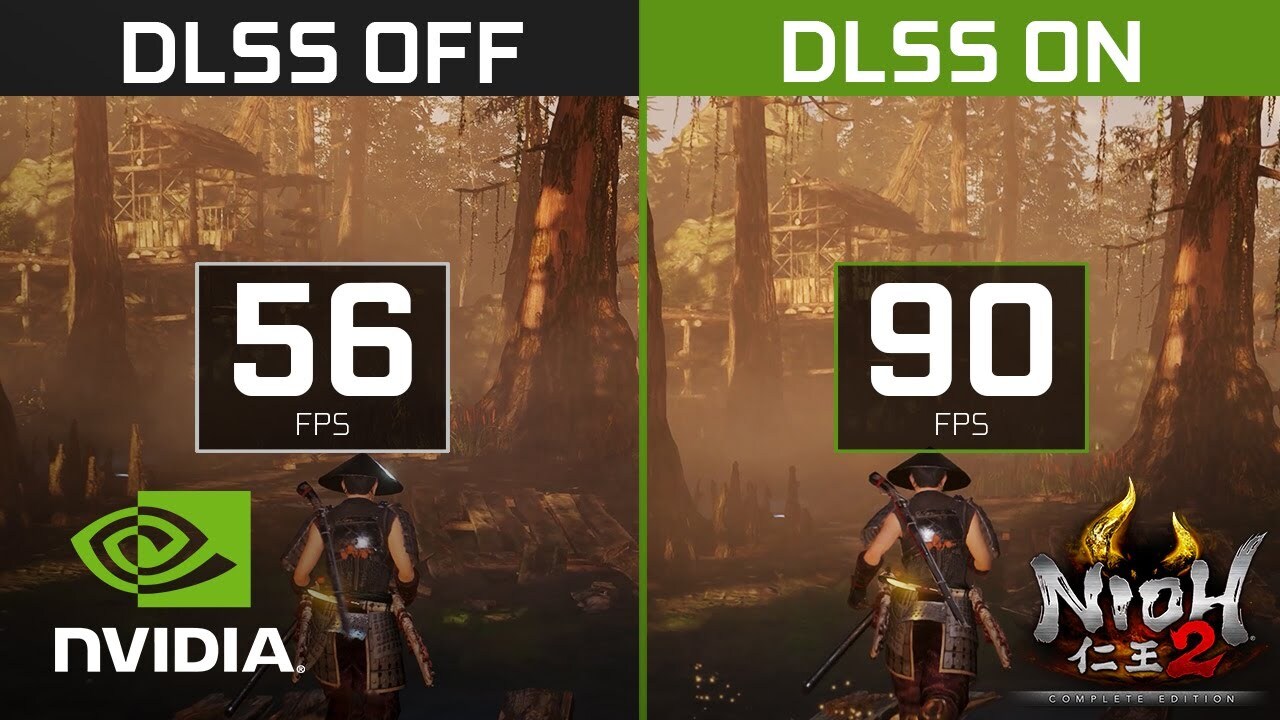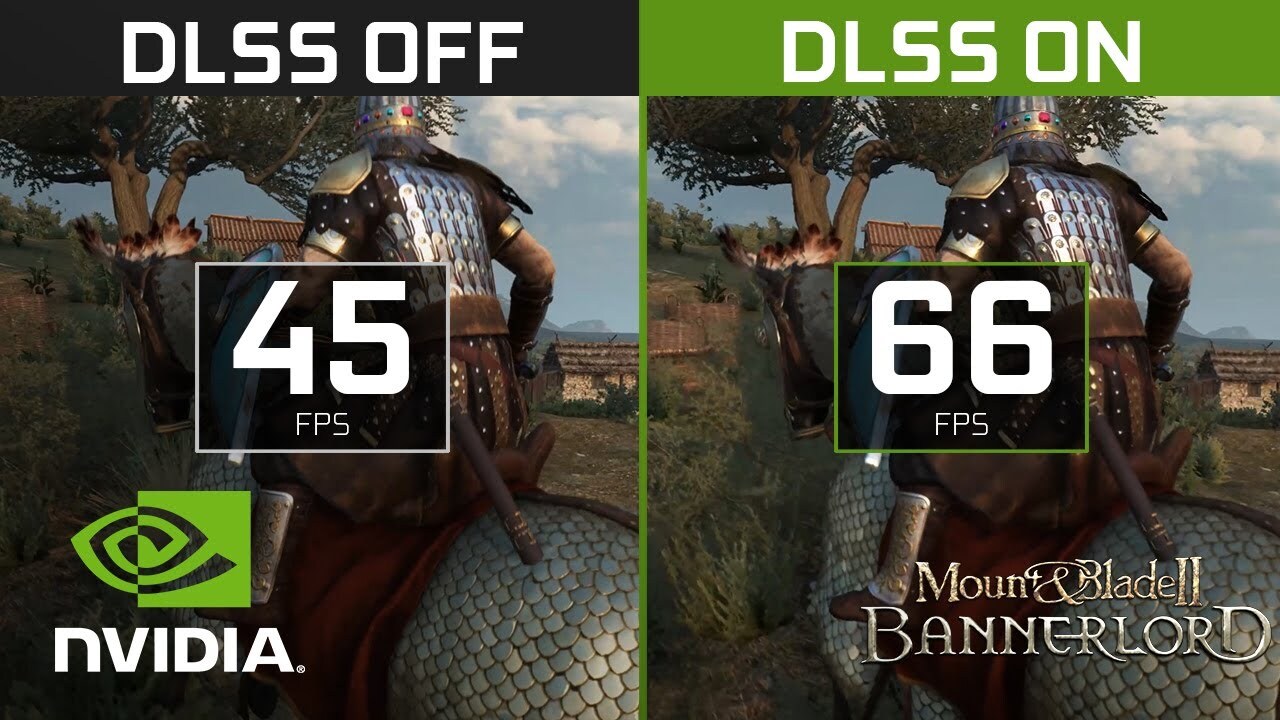 Game Ready For NVIDIA Reflex In Rainbow Six Siege Test Server
NVIDIA Reflex provides a free upgrade to a huge number of GeForce gamers by reducing latency and improving responsiveness on GeForce GTX 900 and newer GPUs. Shots fire faster, you can react faster to enemy attacks, and peeker's advantage is minimized, giving you a greater chance of victory in competitive games.
Following the addition of Reflex to Apex Legends, Call of Duty, Fortnite, Valorant and other competitive titles, the tech is now available on the Rainbow Six Siege Test Server and will release everywhere at a later date.
By simply enabling NVIDIA Reflex on in the options menu, system latency is reduced by up to 25%, giving you a split-second advantage in the heat of battle: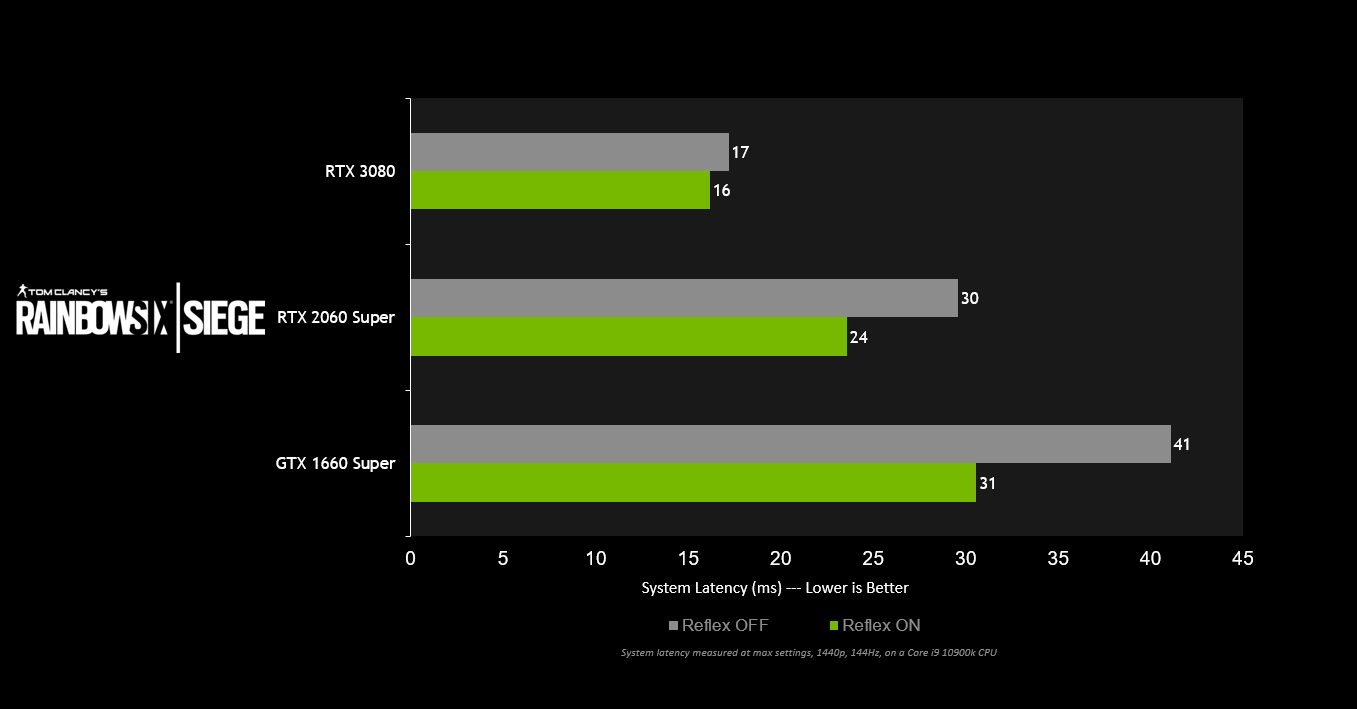 Learn more about this month's developments in the world of NVIDIA Reflex in our dedicated article, and stay tuned to Ubisoft's social media channels to learn when the Rainbow Six Siege with NVIDIA Reflex support, will launch on the public PC servers.
New Games Supported By GeForce Experience's Optimal Game Settings
GeForce Experience's one-click optimal settings enable you to instantly configure game options for your system's hardware, giving you smooth, optimized gameplay. Over 1000 titles are supported, and in the past month we've added support for 25 more:
9 Monkeys of Shaolin
Atelier Ryza 2: Lost Legends & the Secret Fairy
CRSED F.O.A.D.
DRAGON QUEST XI S Echoes of an Elusive Age – Definitive Edition
Dyson Sphere Program
Enlisted
Firefighting Simulator – The Squad
Firework
Heroes of the Three Kingdoms 8
Hitman III
Home Behind 2
Horizon Zero Dawn Complete Edition
Leaf Blower Revolution
Lineage Remastered
Little Nightmares II
Nioh 2 – The Complete Edition
Port Royale 4
Scavengers
Skul: The Hero Slayer
Spelunky 2
Tale of Immortal
The Medium
The Riftbreaker
Yakuza 3 Remastered
Yakuza: Like a Dragon
GeForce Experience also enables you to capture and stream your gameplay, take screenshots, upload videos to social networks, and more. For all the details, head here.
GeForce Game Ready Driver – Download Now
You can download the new GeForce Game Ready 461.72 WHQL driver through GeForce Experience.
If you experience any technical issues with the new Game Ready drivers please post a detailed report on theGeForce.com Driver Feedback Forum, where our Customer Care team can better assist you. And if you're looking for a full list of fixes in this driver, for previously-reported issues, head here.